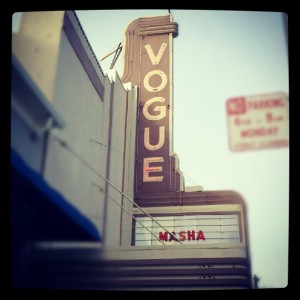 San Francisco Ballet principal dancer Maria Kochetkova is certainly a ballet star, and the Vogue Theatre was packed last week with local balletomanes (as well as several dancers) for a preview of Masha, a documentary that follows Maria's participation with the Bolshoi Reflections project in Orange County and Moscow.
The film gives us a glimpse of life behind the scenes, as it wanders with Maria through costume fittings, rehearsals, performances, and more personal moments like that classic ballerina ritual, preparing (i.e., violently breaking in) pointe shoes. (Without a narrator, this fly-on-the-wall style brings to my mind Frederick Wiseman's 1995 film Ballet, a profile of American Ballet Theatre.) I enjoyed it thoroughly: there are both grand and intimate moments, even slightly comical ones, and they all make you realize how much work goes into ballet despite how effortless it seems from afar. More importantly you get a glimpse of Maria as a dancer at her craft: very detailed and direct as she figures out if a costume will fit right, perfects a particular step or move with the choreographer (in one of the scenes, Jorma Elo), and so forth. Here's a clip:
After the screening, Maria took the stage to answer audience questions, which ranged from her childhood and training to her onstage state of mind ("freaking out!"; she tries to work extra hard in the studio so she doesn't have to overthink during performance) to if she had kids whether she would encourage them to take ballet (yes, why not?) to dream roles she hasn't yet played (she's starting to run out, but upcoming SFB production Cinderella appeals). I love Q&As. This was the first time I had attended one with Maria, and it was lovely to get a sense of her quick, sparkling personality away from the Opera House stage.
Directed by Bronwen Parker-Rhodes, Masha now continues in editing and is likely to have a further or final-cut screening later this year. I'm looking forward to it!
» See also: A couple of videos featuring Maria Kochetkova, San Francisco Ballet Artist Spotlight; and one of the pieces featured in Masha, Jorma Elo's One Overture.