Class notes
Last Saturday (May 28) was the last class in the four-week "absolute beginner" ballet workshop I've been taking. New stuff:
cambré
fondu
balancé: we actually started balancé in the previous class, but this time added the arms, changing from side to side
across the floor: polka steps (step, step, step, hop; most of my background is in jazz dance, but there's a lot of crossover… I wanted to be all, "Oh, so chassé, hop?")
As I mentioned last week, my teacher is on a ballet-related trip to Saint Petersburg, Russia, so I have a couple of weeks coming up without a regular class. She suggested a particular intro class, which I plan to drop in on tomorrow and the following Sunday. Then on June 19 she returns to lead the the next phase of her ballet workshop. I'd gone online yesterday to register for it and was disappointed to see it was already full. So I called the dance center, and apparently they'd gotten similar inquiries about it; they got back to me and said they would let a few additional people register, so I'm in. Yay!
Dance around town
San Francisco Ballet: I renewed our subscription for the 2012 season. I'm especially looking forward to Onegin and Don Quixote, as well as Chroma, which we didn't see last season. We've been doing a partial-season subscription (five of eight programs) for the last few years; we're doing the same for next season but we decided to forgo the LGBT Nite Out receptions. I appreciate them, but for us it just wasn't worth the added expense for all three receptions as a package. We'll maybe go to one à la carte, if friends are going.
Royal Danish Ballet: The RDB is currently on a U.S. tour and we saw them last week in Berkeley performing The Lesson and La Sylphide. They're also performing a more modern program on other nights, but after reading about August Bournonville and the RDB origins of La Sylphide, I definitely wanted to see it, one of their signature works. They did not disappoint. Both pieces were lovely and entertaining, and I wish I could've come back to see their other program as well. During the Sylphide Act I reel, I leaned over to Thom and asked, "So when are we having our Scottish Highland-theme wedding party?"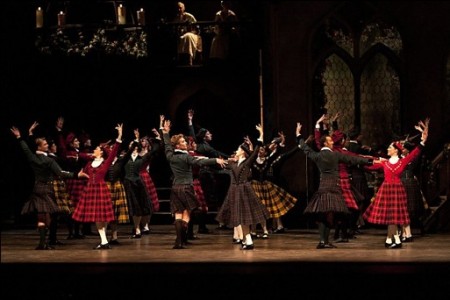 Men in tights? No, men in kilts! (Photo: SFGate.com)